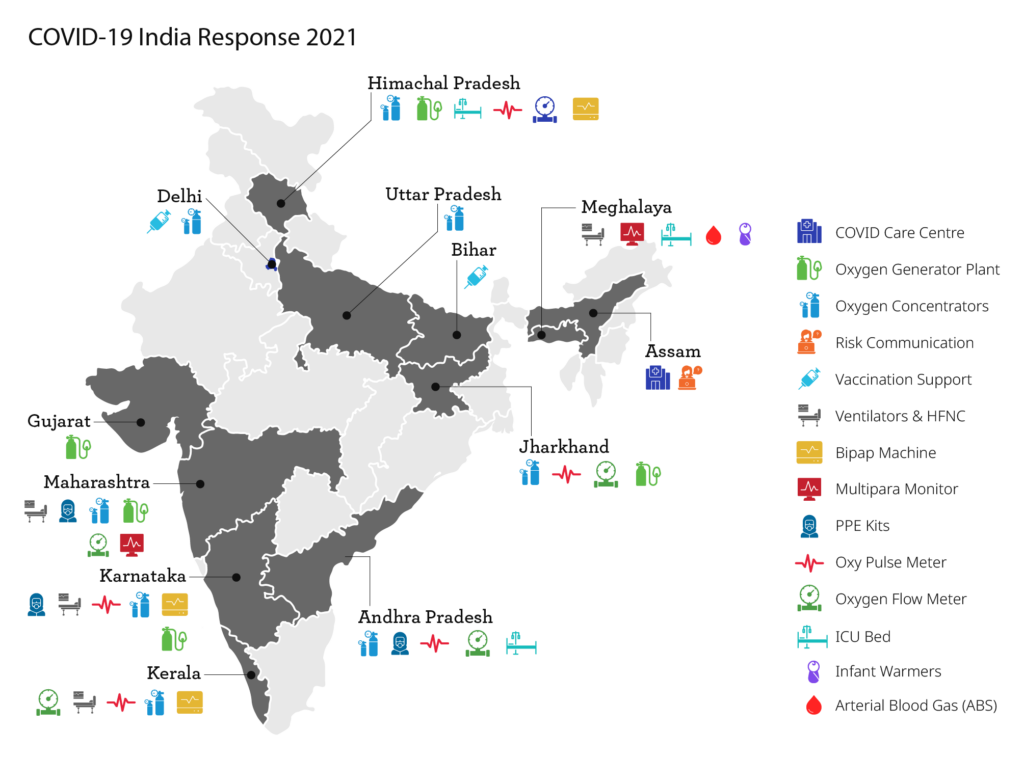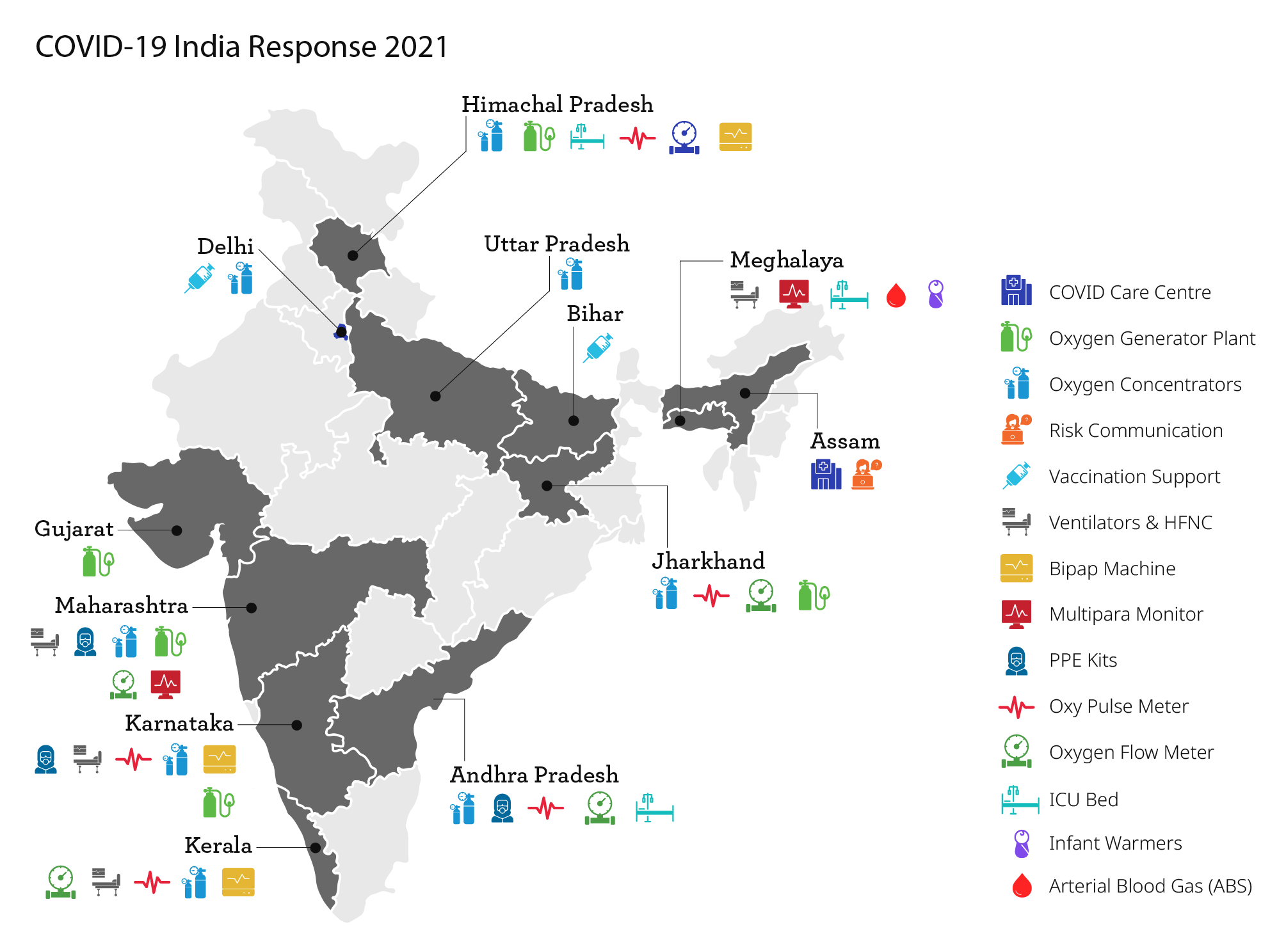 India is struggling with an unprecedented lethal second outbreak of COVID-19. With over 25 lac active cases and the total death toll crossing 300,000[1], it is ranking as one of the worst surges the world has seen since Coronavirus first started spreading throughout the globe.  The new variant of the virus that has entered the country is a potentially a more dangerous variant than the previous one and is attacking the younger population. A Union Health Ministry statement earlier in April had said that a staggering 42 percent patients are between the ages of 21-40. Even before the second wave reaches its peak, the cases have surpassed the peak of the first wave that occurred in September 2020 – with a little over 100,000 cases day. 
Hospitals are struggling with a lack of beds, oxygen cylinders, and medicines. Healthcare workers are overworked and overwhelmed. Social media and messaging apps are filled with requests for leads on ambulances, hospitals, medicines and plasma donors. 
Addressing the nation on April 25, Prime Minister Shri Narendra Modi expressed concern over the storm of infections, saying it had "shaken" India. He urged all citizens to be vaccinated and follow safety protocols.
The visuals from ground are harrowing. Personal vehicles are turned into makeshift ambulances for patients being transported to hospitals.  Some patients are dying in ambulances and personal vehicles are lined up outside hospitals waiting for their turn to get in. In many cases loved ones are pleading with authorities to admit their critical relatives but to no avail. Crematoriums are running over their capacities, with so many pyres burning in cramped areas.. The chaos, timing and limited spaces have prevented relatives from being able to pay their last respects. 
Maharashtra, Kerala, Karnataka, Uttar Pradesh and the national capital Delhi are some of the worst hit states, both in case volume but also the shortage of required healthcare services. New lockdown restrictions have been put in place by several states. New hospital facilities are being set up but the situation is still not under control. 
"Here in India the COVID situation is very serious and shows little sign of letting up soon.  In many parts of India and especially New Delhi, a city of about 20 million, the health care system is stretched beyond its limits. Sadly, preventable deaths are happening due to a lack of hospital beds and more importantly a lack of medical oxygen.  The country needs immediate help on many levels.  It is likely the situation in the rural communities and villages is equally grim but the stats are not readily available. It is our duty and passion to assist in reducing the pain and suffering wherever we are needed. Urgent measures are needed and we are ready to respond.," said Weston Davis, Country Director at ADRA India.
As a humanitarian organization, ADRA is one of many organizations joining the fight against COVID-19 in India. ADRA India has been involved helping the most marginalized and vulnerable people since March 2020 with emergent needs from food, livelihood and medical aid to COVID-19 vaccination support. With the situation at a hand, it is pivotal for the organization to cater to the new needs and support the government in bringing the situation under control. 
Therefore, ADRA is mounting its response to reach out to people in the most suitable manner. ADRA is setting up Oxygen Generation Plant in hospitals across India – with the initial response in Surat, Pune, Ranchi and New Delhi.
ADRA is setting up a COVID Care Centre in Assam. The organization is also providing ICU Beds and medical equipment such as oxygen concentrators, ventilators, BiPap and HFNC Machines, MultiPara Monitors, Pule Oxymeters, Pule Flow meters Personal Protective Equipment (PPE) Kits to workers in Delhi and the Adventist Hospital network across India. 
Until May 25, 2021, ADRA India's response has covered 18 states including Himachal Pradesh, Punjab, Jharkhand, Maharashtra, Andhra Pradesh, Kerala, Assam, Sikkim and Meghalaya. Collaborative effort to defeat the virus is the need of the hour and India needs support from the world to come out of this catastrophic situation. 
[1] https://www.mohfw.gov.in
Your support is crucial for us to continue our response. Your contribution will help us save lives. Consider donating to ADRA India for our COVID-19 Response.
The best way to prevent and slow down transmission is to be well informed about the COVID-19 virus, the disease it causes, and how it spreads. Protect yourself and others from infection by implementing these few steps:
Wash your hands regularly with soap and water, or clean them with alcohol based hand rub or sanitiser
Maintain at least a 1 metre distance between you and anyone coughing or sneezing
Avoid touching your face, especially including your eyes, nose and mouth
Cover your mouth and nose when coughing or sneezing with a tissue to dispose or your elbow
Stay at home if you are feeling unwell and contact the health authorities if you present symptoms
Practice physical distancing by avoiding unnecessary travel and staying away from large groups of people
Wear a face mask correctly that covers your nose and mouth whenever you leave home
Beneficiaries Reached in 2021
Total Budget for COVID-19 Relief Activities
ADRA India was supported by Danish International Development Agency to address the immediate needs of the people most impacted by the COVID-19 lockdown in India. A total of 226815 vulnerable people including returnee migrants and excluded households, who remained outside the coverage of government humanitarian intervention across targeted districts in Uttar Pradesh and West Bengal were supported through the intervention. Additionally, special attention was provided for identifying and addressing the specific needs of the cyclone Amphan affected people in the context of COVID-19 in West Bengal. The village Quarantine centres (where migrant workers had taken shelter immediately after the mass exodus from cities) were identified and need based actions were taken to prevent the spread of COVID-19 across the general population. Through the programme, ADRA India provided multi-purpose cash transfers to those in need to meet their basic needs. In all, 1363 households were extended support through Unconditional Cash Transfers (UCT).
ADRA also undertook Risk Communication and Community Engagement Readiness (RCCE) in the target locations. RCCE is integral to the success of public health response during a health emergency. ADRA, with its experience on RCCE, supported the Government to spread awareness, especially amongst the migrant community, during the COVID-19 pandemic. Community leaders and influencers were trained to spread the correct messages on the virus and mitigate rumour and fear in the community.
ADRA India has conducted several successful COVID-19 relief and response activities in 2020, including providing hygiene kits, dry ration, cooked food, and cash transfers to the needy; training key influencers in the community for response measures; repairing damaged water hand pumps and toilets, and providing water testing kits.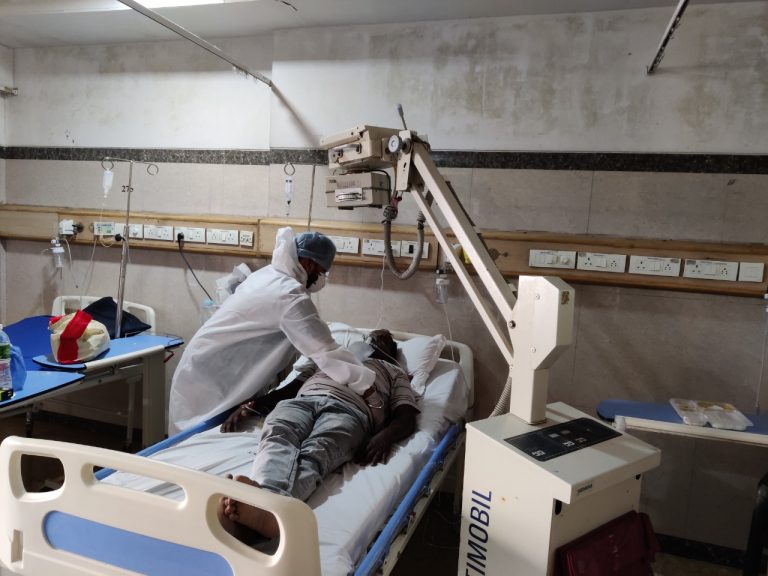 COVID-19
The first week of May has brought no relief to India, where surging cases of COVID-19 continue to dismantle the healthcare system. Since the start of the new month, nearly 400,000 people are getting sick with the virus every single day.
Read More »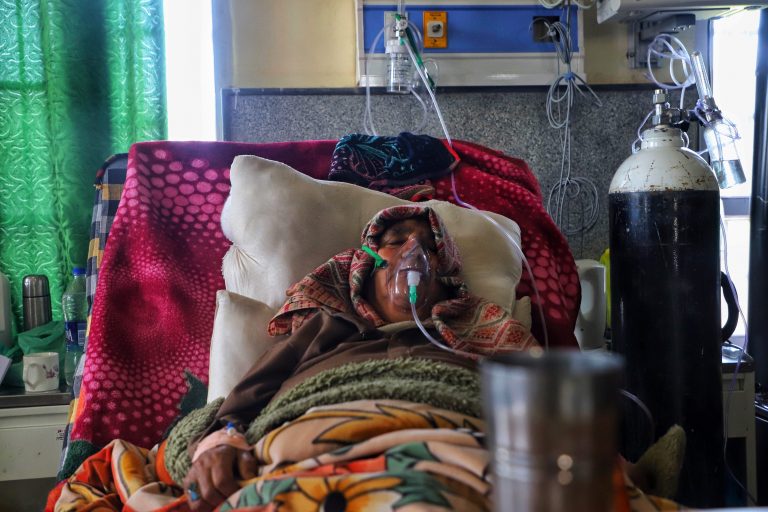 COVID-19
India is struggling with an unprecedented lethal second outbreak of COVID-19. With over 350,000 new cases every day and the total death toll crossing 254,000
Read More »