Kajan, with 17 years, is a spastic child from Puzhal SLR camp in Tamil Nadu, living with his parents Ms. Jothi Lakshmi and Mr. Kumar. His father works as daily wager. Kajan has a younger sister and a brother. Since he was a young child Kajan did not respond well and only when he was two years old his parents diagnosed him as a Mental Retardation- Cerebral Palsy Child and he was prescribed for physiotherapy.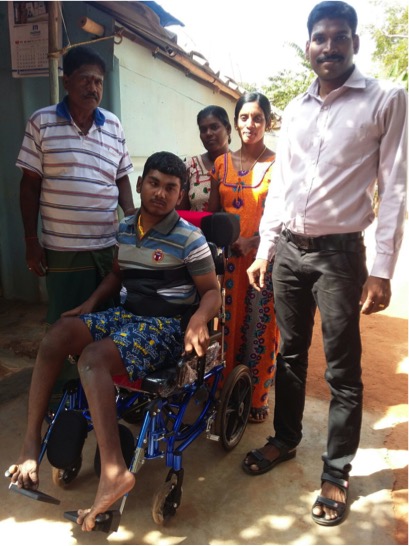 Following this, his parents took him for treatment and he started responding well having good improvement. But with the financial crisis, and the less income that Mr. Kumar was earning it was hard for them to go for the treatment and more than the treatment the transport cost was very high and it almost impossible for them to take him to the hospital. Due to this they stopped taking him for the treatment.

Hearing this and considering the condition of the child, ADRA India Filed staff visited their family and at the same time the boy's mother had also heard about ADRA India and in fact was ready with a request letter for support. Following this, his case was verified and analysed by the project team, further discussions with the family were held and as a result the boy was supported with a customised wheel chair worth Rs.16500/- that would help them in taking him to the treatment sessions easily.

ADRA India is working with the commitment of giving better opportunities to the families in Tamil Nadu, specially the children as they are the future of the country and deserve all the help for improving their lives. Through the Lebara Child Development Project, ADRA India provides the best resources for the families so they can have the chance of living a better life.