India's north-eastern state of Assam is known globally as the land of the tea. More than half of India's tea production takes place in the state. However, the communities working in those tea estates and industries are some of the most marginalised groups, living under deplorable health and sanitation conditions. Adolescent girls living in the tea gardens are extremely vulnerable to menstrual health issues and unhygienic practices stemming from a lack of awareness and various social beliefs that deem a menstruating woman impure. This often leads to early school dropout among young girls, health related issues such as anaemia, and much more. In a recent baseline survey conducted by ADRA in collaboration with Indian Council of Medical Research (ICMR) in 30 tea gardens of Dibrugarh and Tinsukia Districts, it was found that in 80% of the schools, teachers do not initiate or discuss menstrual health, leading to low attendance and high dropout rates among adolescent girls. Due to lack of knowledge surrounding menstruation, the girls often ignore their health and nutritional needs. Most of the girls do not even know how to properly use and dispose off a pad.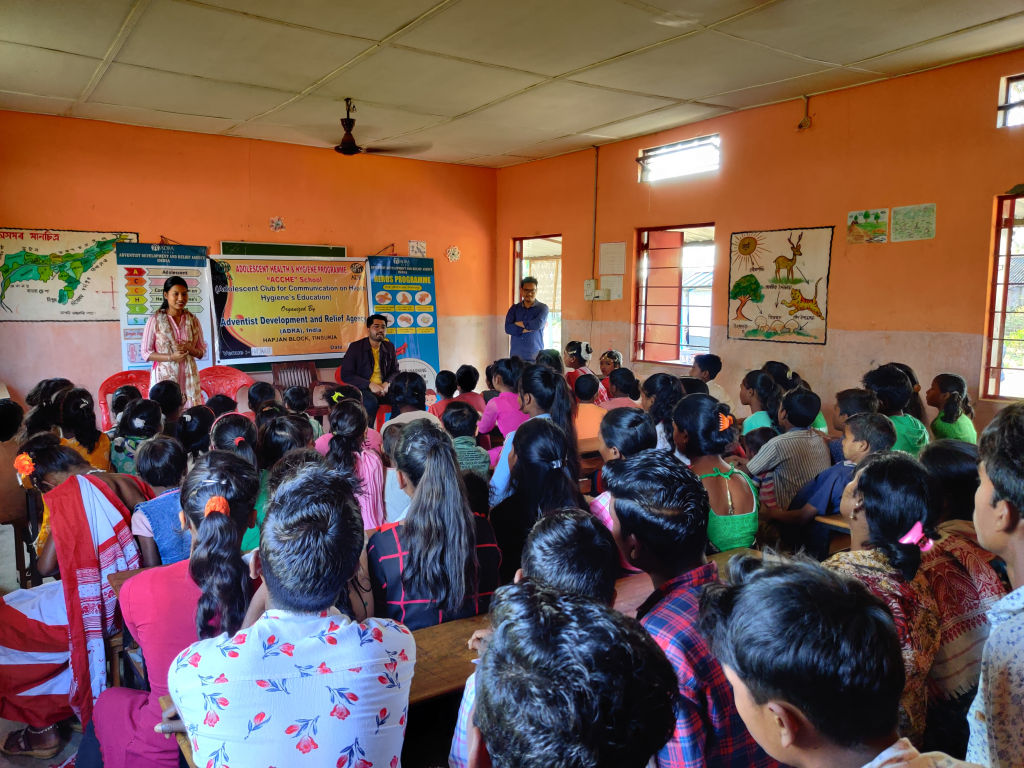 To overcome this challenge in a sustainable manner and reach out to maximum adolescents in a structured way, ACCHE (Adolescents' Clubs for Communication in Health/Hygiene Education) Schools were formed. A committee was formed under the ACCHE Schools, the members of which include comprising of School Nodal Principal and a teacher, one member from Public health and Engineering Department, Government of Assam (Nodal department for Swachh Bharat Mission), one member from Primary Health Centre (Government of Assam), one or two Panchayat members, two students from the local university, college-going girls, one SHG member from National Livelihood Mission, Government of Assam, one member representing the Tea Gardens, ADRA Block mobilizer, Members of Mothers' Group, three students as captains and the ASHAs and ANMs. The committee conducts special classes and discussions on adolescent issues and menstrual health and hygiene, as per the module developed by ADRA.
The approach has been a success and within three months of intervention, we have been able to form 20 ACCHE Committees, comprising 286 core members, in 16 tea gardens of Dibrugarh and Tinsukia. Through the initiative, 2111 adolescents have become members of these schools and attend regular sessions, creating a change in the community. The initiative has been appreciated by government departments, which have initiated collaboration with ADRA to organise Menstrual Hygiene Week programmes in both the districts, discussing, teaching and celebrating menstrual health.